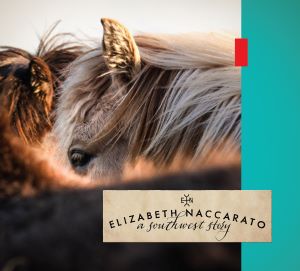 'A Southwest Story' new album by Elizabeth Naccarato at Peaceful Internet Radio Station
2 August 2022 Artists
---
Click on photo for Elizabeth's website.
A Southwest Story is the seventh release by Elizabeth Naccarato. It features Piano w/instrumentals influenced by the music of the Southwest's Classical roots of Spain, Native American culture and the Old West. Featured artists include Leon Christian and Nancy Rumbel.  A Southwest Story is a romantic, spiritual and dramatic portrayal of the beauty, history and culture of the land.
Tracklist
1  San Luis (4:42)
2  Wild Horses (2:58)
3  Sacred Land (5:08) – Second Single out July 8th
4  Mi Hito, No! (4:12)
5  Fandango (1:48)
6  Brown Eyes (4:12)
7  Spanish Dance No. 2 by Granados (5:25)
8  La Sierra (4:38)
9  Shrine of the Stations of the Cross (3:33)
10  The Vega (4:31)
11  Dusk (4:08) (First Single Out Now)
12  Cowboy's Waltz (3:30)
13  Flower Moon (3:36)
Track Notes
San Luis – Spanish settlers came through Southern Colorado via New Mexico. When they saw the beauty of the mountains and the fertile valley, it reminded them of Spain. They stopped and it is the oldest Town in Colorado.
Wild Horses – grace our land, running free and drink off the Acequia and Rio Grande.
Sacred Land – It is said by Native Americans that the land between Ute Mountain and Mt. Blanca is sacred.
Mi Hito, No! – A familiar Spanish saying by mothers in defense of their sons.
Fandango & Spanish Dance No. 2 are Classical music covers by Spanish composers.
Brown Eyes – Brown is the color of the sparking eyes of the beauties from the region.
Shrine of the Stations of the Cross – visitors come from all over to walk the trail to see the magnificent bronze statues and take in the breathtaking views.
Dusk – Colorado skies bid farewell to the sun.
La Sierra –
Tall and strong
Unwavering and constant
You give water from the snow melt
And wood for cold winters
And although you are white in winter
You are red at sunset
Ever constant, ever loyal
You are the compass
You are the Sentinel
You are La Sierra
Cowboy's Waltz –  A Tribute.
Flower Moon – …was written after I experienced a Flower Moon in May, and dreamed of Chopin.
Visit for more music and information:  www.elizabethnaccarato.com
---
Benno Veugen A Southwest Story, Elizabeth Naccarato, New Age, New Age Music, Peaceful Internet Radio Station, Peaceful Radio