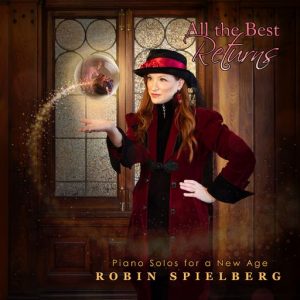 'All The Best Returns' new EP by Robin Spielberg in Peaceful Radio Show 1517
23 November 2022 Artists
---
Scroll down and click on photo for Robin's website..
Robin Spielberg returns to her roots in this newest
EP featuring original works for solo piano and a
heartfelt interpretation of the Ukrainian National
Anthem. Recorded on beautiful vintage Steinway
pianos, All the Best Returns celebrates resiliency,
hope and the power of positive thinking.
A message from Robin…
For decades, I have signed my personal letters,
"All the best, Robin." When we give one another
birthday greetings, it is customary to wish one
another "many happy returns." This album is my
wish, in music, for the listener to enjoy many
happy returns in their own lives.
The album's first single, "In Search of the Forest
Fairy," was recorded on an 1898 Steinway in New
Hampshire, the rest of the EP was recorded during
the pandemic on Robin's rebuilt 1896 Victorian
Steinway Model A.
TRACK LISTING
1) In Search of the Forest Fairy 4:36
2) One Step Closer 3:48
3) All the Best Returns 2:50
4) The End of Summer 4:45
5) Shche ne Vmerla Ukrainy* 3:40
(the Ukrainian National Anthem,
arranged by Robin Spielberg)
Run Time: 19:40
With interests in both theater and music, Robin Spielberg earned a B.F.A. in drama from New York
University. As a founding member of the Atlantic Theater Company, she has acted in dozens of offBroadway plays, radio dramas, and composed several original scores while building a career as one of the
premiere piano performers in New York's piano rooms. In 1993, Robin's debuted an album of solo piano
compositions at the urging her fans in these listening rooms. The recording ended up being a huge success,
sold over 300,000 copies and received accolades from industry trade publications. Its success led to a
recording contract with a small independent label in New England and the start of Robin's career as a
touring concert artist and storyteller.
Robin Spielberg is a Steinway Artist, and has been hailed as one of America's most popular contemporary
female pianists/composers. She has been featured in live performances on PBS, CBS Saturday Morning,
ABC News, Lifetime Live, and NPR. She has played sold out performances at Carnegie Hall's Weill Concert
Hall three times. Spielberg has toured South Korea several times and in 2019 embarked on a three week
concert tour of China where she is a bonafide "piano star." Spielberg's music has now been heard by over
300 million listeners on Pandora and has hundreds of millions of plays on Apple Music and Spotify.
Her albums have charted on Billboard as well as the Zone Music Reporter radio charts.
Robin Spielberg is the author of "Naked on the Bench: My Adventures in Pianoland," which won the
Reader's Favorite International Book Award contest for best memoir. The memoir demystifies the life of a
touring artist with humor, and gives readers an inside look at the sometimes harsh realities of life on the
road.
Robin Spielberg is passionate about the relationship between music and health/well-being. She is in her
23rd year of serving as an Artist Spokesperson for the American Music Therapy Association and is a
founding member of the Mindful Music Association. Her popular TEDx TALK on music and wellness has had
over 345,000 views.
Spielberg gives keynotes, workshops and seminars on the topic of "Music and Mental Health," "Overcoming
Performance Anxiety," and "How Music Therapy Works." She resides in rural Pennsylvania with her
husband/business partner, and is an Adjunct Professor at Millersville University where she teaches
"International Music Business."
When Robin's 2020 tour was cancelled due to the pandemic, Robin and her husband devoted themselves to
learning new technology and pivoted to livestreams performances using a five-camera set up. Robin has
since has given more than 200 free live stream concerts across five platforms since March 2020, and
continues to do so on Friday evenings when she is not on tour. Each livestream was unique and she prides
herself on having never repeated a set.
"All the Best Returns" is Robin Spielberg's 22nd album, and can
be found on all major streaming platforms.
Visit robinspielberg.com for Spielberg's music, sheet music
and specialty items.
Twitter: @robinspielberg
Facebook: RobinSpielbergMusic
Instagram: @robinspielberg.real
CREDITS
All compositions by Robin Spielberg except *
Published by Spobs Music Inc. (ASCAP)
Distributed by The Orchard
Engineered by Gerry Putnam & Larry Kosson
Mixed and mastered at:
Cedarhouse Sound & Mastering;
N. Sutton, New Hampshire
Photography by Larry Kosson
Album cover design by Mike Hamblin
©2022 playMountain Music
---
Benno Veugen All The Best Returns, New Age, New Age Music, Peaceful Radio, Peaceful Radio Show, Robin Spielberg