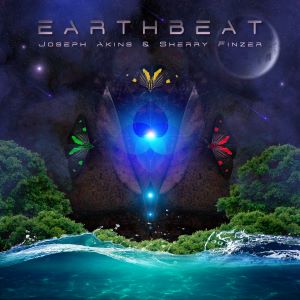 'Earthbeat' new album by Joseph Akins & Sherry Finzer at Peaceful Internet Radio Station
14 February 2023 Artists
---
Scroll down and click on photo's for Joseph's and Sherry's websites.
This album is comprised ofseven singles previously released by
pianist Joseph Akins and flutist Sherry Finzer, and includesthe
new previously unreleased track titled Who Am I, composed by
Joseph Akins.
These tracks celebrate the many gifts brought to us by the
earth, and we hope that you enjoy these contemporary
instrumental compositions.
TRACK LISTING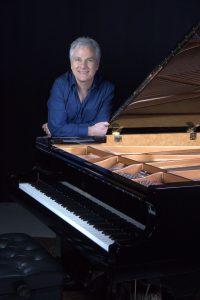 01 Shanti Moon (4:11)
02 Rain Cloud (4:13)
03 Earthbeat (5:54)
04 Café Spa (4:06)
05 Eventide (3:54)
06 Who Am I (4:56)
07 Two Wolves (3:34)
08 Angel Moon (4:31)
Total time: 35 minutes
CREDITS
Composed & Performed by:
Joseph Akins (piano) & Sherry Finzer (flutes)
Vocals by Unita Akins
Tracks recorded at Piano Haven Studio by Joe Bongiorno –
Angel Moon, Eventide, Rain Cloud, Earthbeat
Tracks recorded at MTSU – Two Wolves, Who Am I, Cafe
Spa, Shanti Moon
All tracks mastered by Joe Bongiorno
Album art by Michael Rogers
Joseph Akins has released nine solo albums as a pianist, composer, and producer. His piano music has been
described as sounding similar to Narada artists, such as David Lanz, but with a pinch of roots Americana. His
solo piano debut Masterpeace was released in 2007 and caught the attention of many folks including
Whispering Radioprogrammer David Nevue. The follow-up album, Spirit Touch, was included in Kathy
Parson's Top Albums of the Decade and enjoyed popularity on Music Choice Soundscapes. In 2011, A
PianoChristmas earned an album of the year and the same happened for Castle Moon in 2015 with EPR. To
date, his music has reached close to 100 million streams on Pandora. Since 2020, Joseph has released multiple
singles with flutist Sherry Finzer on Heart Dance Records, and his newest solo piano album, Dream World
drops Summer of 2021. He and his wife Unita reside in Murfreesboro, TN where Joseph is a professor of
recording industry at Middle Tennessee State University.
Sherry Finzer believes that music can heal. Listeners contact her daily to let her know how much her music
helps them in physical/mental healing, tinnitus, stress relief, and overall well-being. She is a Phoenix-based
flutist, performer, and composer, and runs Heart Dance Records – a label consisting of artists with a focus on
healing music. Whether creating ethereal music for Spas, or more upbeat melodies for road trips, her magical
tones are created by "low flute" instruments, which include the alto, bass, and contrabass flutes., as well as
Native and World flutes. You can hear Sherry's music in regular rotation on the SXM Spa Channel, Music
Choice, global radio stations, and multiple US and International airlines.
---
Benno Veugen Earthbeat, Joseph Akins & Sherry Finzer, New Age, New Age Music, Peaceful Internet Radio Station, Peaceful Radio