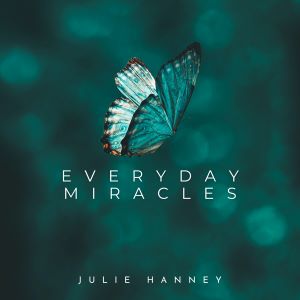 'Everyday Miracles' new album by Julie Hanney in Peaceful Radio Show 1526
25 January 2023 Artists
---
Scroll down and click on photo for Julie's website.
Everyday Miracles was born out of taking time to appreciate all
of the amazing, miraculousthingsthat exist in our lives every
single day. If we focus on what we lack, we can missthe
abundance that existsin our natural and spiritual world. From
the wonder of birdstaking flight to the mathematical patterns
and spiralsin nature to the miracle of the present moment, these
songs are each sonic expressions of the miraculous, yet universal
gifts given to us all.
Track Listing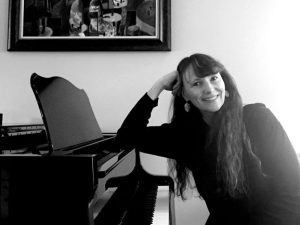 01. Taking Flight (3:08)
02. Reflections (2:59)
03. Coming Home (3:48)
04 .Slowing Down (2:45)
05. Fibonacci Sequence (3:13)
06. Here Now (4:02)
07. A Prayer for Peace (2:54)
08. Ancient Winds (4:07)
09. Holy Ground (3:11)
10. Synchronicity (2:46)
11. Heart Rhapsody (3:09)
12. Longing (2:59)
13. Hope (3:09)
14. Birdsong (3:12)
Total Time: 46 minutes
Credits
Allsongs by Julie Hanney
Mastered by Cass Anawaty at Sonoran Mastering, AZ
AVAILABLE ON:
Amazon Music, Bandcamp, iTunes, all majorstreaming platforms
www.heartdancerecords.com/juliehanney
www.facebook.com/juliehanneypiano
Instagram: juliehanneypiano
Twitter: JulHanneyPiano
TikTok: @juliehanneypiano
Julie Hanney is an Oregon-based pianist who composes and performs music that is unique,
emotional, and invokes a deep sense of peace. Her grandmother was a piano teacher who
introduced Julie to the piano at the age of five. This sparked a passion for music and she began
writing her own music just a few years later. Her piano compositions have been described as
peaceful, yet intriguing. One reviewer said she is "a delightful combination of George Winston meets
Erik Satie." This truly compliments Julie's ability to compose and perform music that both inspires
and soothes. Another reviewer said,"Expressive without being pretentious or needlessly flashy,
Julie's music is performance with an aura – one which will emotionally move you in many ways." Her
style is a blend of neoclassical, new age, relaxing jazz, and romantic. Releasing several EPs and an
album on Heart Dance Records in 2022-2023, her new songs communicate different"everyday
miracles"that exist all around us, if only we would take a moment to notice. From birds taking flight
to synchronicities to the perfect spiral of a pinecone… miracles abound for those with the ability to
stop and perceive them.
Where the Ocean Meets the Sky was released on Heart Dance Records in January 2021. Her
intention is that these songs impart a sense of rest, wonder, peace, and healing. Songs from this
album have won awards and have been heard on Sirius XM radio, international airlines, and radio
stations around the world. Her music has well over a million streams on Spotify. Julie created an
ongoing series titled "Peace Through Music" with other musical artists. When not making music she
enjoys kayaking, hiking, camping, playing with her dogs, reading, writing, and exploring the world.
---
Benno Veugen Everyday Miracles, Julie Hanney, New Age, New Age Music, Peaceful Radio, Peaceful Radio Show