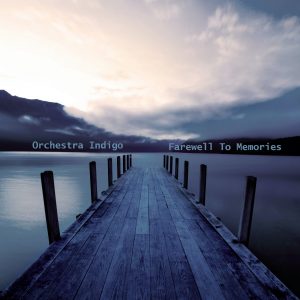 'Farewell To Memories' new album by Orchestra Indigo (Rick Randlett) in Peaceful Radio Show 1508
19 September 2022 Artists
---
Click on photo for Rick's website.
Orchestra Indigo is an ambient music project created by
recording artist Rick Randlett. Like many new artistic
projects, the impetusfor it wasthe the Covid pandemic, with
it's months of isolation and no live performances. Reaching
back to his college studiesin composition, orchestration, and
electronic music, Rick is creating a unique orchestra
electronic hybrid with neoclassical overtonesthat envelopes
the listener in relaxing waves ofsound.
A message from Rick…
Farewell to Memoriesis an attempt to look at a period in my
family's history through music. I truly believe that the idea of
memories of a time and place lost forever istruly universal.
TRACK LISTING
1. Farewell To Memories 5:57
2. Distant Worlds 4:57
3. In The Aftermath 3:30
4. A Time Of Solitude 4:42
5. Twilight Falls 3:49
6. Daybreak 4:25
7. Lights On A Distant Shore 3:46
8. A Perfect Summer Day 4:44
9. Mysteries 4:18
10. Hope Eternal 4:37
11. First Snow 4:02
12. One Last Look 5:16
Total Run Time 54.26
Farewell to Memories will be
streamed on all major platforms
CREDITS
Piano and synthesizers performed by Rick Randlett
Allsongs composed by Richard K Randlett,
copyright 2022 ASCAP.
Published by Anne Bello Productions Publishing ASCAP
Recorded at WS Audio, Lake City, Fl
Mastered by TDE Mastering, Gainesville, Fl
Produced by Rick Randlett
Artwork by Janese Nix
The fascinating story behind the emergence of new age artist Orchestra Indigo and its beautifully melodic and deeply
inspiring debut album Farewell to Memories hasitsrootsin the lockdown early in the pandemic, when musicians
around the world, with their regular gigssuddenly stripped away, were trying to figure out their next creative steps.
Having released hisfifth bluesrock oriented album Night Songsin February 2020, multi-talented singer/songwriter,
guitarist and keyboardist Rick Randlett had every intention of hitting the road in support of the project. That had been
his m.o. for years, playing up to 125 regional club and festival datesin and around his adopted home state of Florida for
nearly a decade and a half after launching hissolo career in 1999 with All Alone. Three of hisreleasesreached the Top
Ten on the Roots Music Report charts, and he collaborated on the album Hauntings with fellow bluessinger Cassie
Keenum in 2017.
Turning his anxiety over the sudden work stoppage into a fresh stream of creativity, he began exploring ambient, new
age style compositions on a home studio setup that includes a Mac Book Pro, Studio One for DAW, Roland Juno
synthesizer and a Modal Cobalt 8 synthesizer. Hisfirst idea wasto create short instrumental piecesfor music libraries,
but besideslearning about the fierce competition in that field, he realized there were too many restrictive rules.
Rick embraced the freedom of composing longer pieces combining piano melodies with an array of dynamic colors he
created using synthesized strings. Extensively researching the new age genre, he realized not only that these pieces he
was composing were a perfect fit, but also that the audience for instrumental music was much more expansive than
that in the blues world that was his home forso long. In creating Farewell to Memories, he chose the artist branding
name Orchestra Indigo because, after considering various word combinations, he thought itsounded unique and a little
mysterious – and he didn't want to confuse fans of his work in either genre by using his given name on the new age
material.
Many of the songs on Farewell to Memoriesreflect on growing up in New England, with the title track and album title a
direct reference to a return visit upon the passing of his motherseveral years ago. He and a few friends were visiting a
lake in Ayer, MA where he had spentsome childhood summers at a home his grandparents owned. The foundation was
there but the old house was gone. Likewise, the last track on the album "One Last Look" is about a moment crossing a
bridge to leave the lake area and realizing he would probably never be there again. "In all my music," Rick says, "I'm
alwaystrying to reach people emotionally. I hope they feel the same feelingsI did when I was writing the music."
Born in Philadelphia, Rick – whose earliest music memory was watching American Bandstand with his mother while she
ironed – first became interested in music at age eight when a classmate'sfather was a clarinetist in the Philadelphia
Orchestra. He began clarinet lessons at nine, then, with the dawning of Beatlemania,switched quickly to guitar, playing
in local bands at high school dances and teen clubs. He took up piano in hislate teens and learned aboutsynthesizers
and electronic music while studying music in college. He received a Bachelor'sin music education from Keene State
College in New Hampshire, then did graduate work in theory and composition at the University of Massachusetts
https://www.facebook.com/orchestraindigo
---
Benno Veugen Farewell To Memories, Orchestra Indigo, Peaceful Radio, Peaceful Radio Show, Rick Randlett