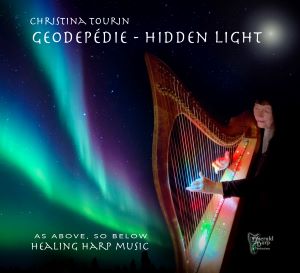 'Geodepedie – Hidden Light' new album by Christina Tourin in Peaceful Radio Show 1534
21 March 2023 Artists
---
Click on photo for Christina's website.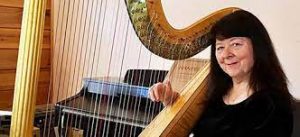 BIOGRAPHY: Christina Tourin
As one of the foremost leading educators of the harp, whose International Harp Therapy Program currently has training centers in multiple countries and languages with Therapeutic Harp Practitioners from 32 countries serving on five continents, Christina truly lives a life "as above so below," experiencing the magnificent and transcendent in small but significant ways.
While perhaps only the start of a list of countless accolades across many musical endeavors, her lifetime of dedication to educating people on the harp has always been her way of making a difference in the world.
From classical masterpieces, Celtic traditionals, and sonic innovations from other cultures to improvisational meditative atmospheres, music has been a constant inspiration throughout Christina's life. Trained in performance both at the Mozarteum in Salzburg, Austria and at McGill University in Montreal, Christina's fascinating musical life has taken her around the world from Japan to Ireland, where she's brought the National Instrument of the harp to blind children; she also served as a trained music therapist at the Blind Institute of San Diego. In addition, she performed for 17 years for the Von Trapp Family at their Austrian Chalet Lodge in Vermont, and has accompanied chorales, performed with symphonies and been part of ensembles in off-Broadway theaters.
As thousands of grateful listeners, students and patients can attest, Christina's performances are the sacred, transcendent moments where she is most fully alive. Bringing her harp to magical life, she shares with the world the deepest, most profound truths of the universe, which she rightfully and intuitively credits as the source of all she creates – including this album, Geodepédie – Hidden Light.
For more information, and Christina's complete collection of published books, music, and educational materials, please visit: www.christinatourin.com.
---
Benno Veugen Christina Tourin, Geodepedie – Hidden Light, Peaceful Radio, Peaceful Radio Show