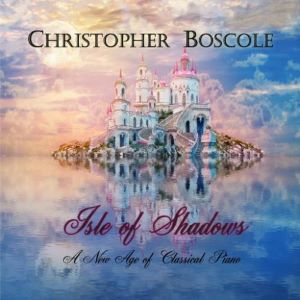 'Isle of Shadows' new album by Christopher Boscole in Peaceful Radio Show 1508
21 September 2022 Artists
---
Click on photo for Christpher's website.
Performed live and recorded by Christopher Boscole
at hisstudio in Kauai, Boscole has produced a new
album continuing in the series of A New Age of
Classical Piano – Isle of Shadows. This album
features 11 arrangements ofsome traditional
classics as well assome lesser-known selections,such
asthe album title track "Isle of Shadows" by Selim
Palmgren, a Finnish composer. The album concludes
with a Boscole original "Until We Meet Again".
TRACK LISTING
01. Romance Sans Paroles in Ab major, Op. 17 No. 3 (3:21)
(Arranged by Christopher Boscole)
02. Nocturne in Eb Major, Op. 9 No. 2 (5:11)
03. Sonata No. 8 Op. 13 "Pathetique"II. Adagio Cantabile (4:45)
04. 6 Lyric Pieces, Op. 28 "Isle of Shadows"II. Skuggornas O (5:56)
05. Pavane, Op. 50 (4:32)
(Arranged by Christopher Boscole)
06. Préludes, Book I, L. 117: Vii. La fille aux cheveux de lin (3:30)
(Arranged by Christopher Boscole)
07. Sonata No. 14 in C-Sharp Minor, Op. 27 No. 2
"Moonlight": I. Adagio sostenuto (5:31)
08. Suite No. 3 in D Major: II. Air (4:44)
(Arranged by Christopher Boscole)
09. 24 Preludes, Op. 28: No 17 in A-flat major (4:15)
10. Solace: A Mexican Serenade (5:21)
(Arranged by Christopher Boscole)
11. Kinderszenen, Op. 15: No. 7, Traumerei (2:59)
12. Until We Meet Again (5:41)
Total Time: 56 minutes
Isle of Shadows will be
streamed on all major platforms
CREDITS
Digitally mastered by Joe Bongiorno at Piano Haven.
Graphics by G. C. Sinclaire, Author and Designer.
AWARDS/PLACEMENTS
Whispering Solo Piano Artist featured on Vol 1 of artist
compellation Focus Zone Music for Studying Compilation by
Mindful Music In the Zone Vol 1 Compilation
https://www.facebook.com/christopher.boscole
https://twitter.com/chrisboscole
https://christopherboscole.com/
Pianist and composer Christopher Boscole hasreleased thirteen albums of inspirational and uplifting
piano music. New Age, Classical, Neoclassical, Ambient, Jazz, Piano, Easy Listening, Melodic, Happy,
Modern impressionist piano music that isrelaxing and meditative. Boscole grew up in a musical
household as his mother was a singer and piano teacher. He studied violin, viola, clarinet,saxophone,
and piano – later with classical pianist Mikiko Miyamoto. Christopher played in school jazz groups and
later pop music and rock n roll as he worked as a pianist/accompanist and keyboardist in a variety of
bandsin Seattle. He studied privately with jazz artist Gary Peacock and also continued music studies
at Edmonds Community College and the University of Washington achieving a Bachelor of Artsin
Music – Classical Piano and later a Master of Music in Studio Music and Jazz Piano Performance from
the University of Miami where he was also was a teacher. In his early career, Christopher produced five
albums: Shimmer, September Song, Land of Music, O Christmas Tree, and Natural Instincts. In the
following years, Boscole took a break from recording and focused on raising a family while working as a
teacher and musician. In 2008 he took a sabbatical and sailed to Hawaii and released Presents of
Angels and Inner Voyages. Christopher then returned to teaching in Seattle and later produced
Floating on a Melody in 2012. The next year Boscole retired from teaching and sailed back to Hawaii
and released A New Age of Classical piano in 2014. This wasfollowed by Skipping on Daisiesin 2016
and Soul Dreamsin 2017. Christopher released Dawn of Love in 2019, a collection of classic love
themes and 2 originals. Now in 2022 Boscole releasesIsle of Shadows- A New Age of Classical Piano.
Christopher is also featured on several compilation albums: Whisperings Solo Piano I, In the Zone Vol
1, and Focus Zone Music for Studying. Christopher also combines his passionsfor music, nature,
photography, and sailing in music videosfound on Youtube.
---
Benno Veugen Christopher Boscole, Isle of Shadows, New Age, New Age Music, Peaceful Radio, Peaceful Radio Show