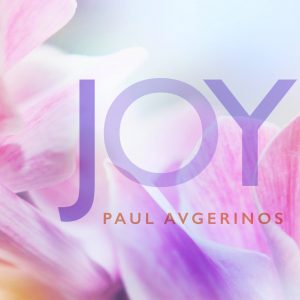 'Joy' new album by Paul Avgerinos at Peaceful Radio Internet Station
22 June 2022 Artists
---
With Joy, Multi-Grammy® winner Paul Avgerinos and Kevin Braheny Fortune deepen their
collaboration last heard on Grace, their 1st new age Grammy winner in 2015.
The track names are a poem expressing Joy:
Joy Is

Subtle
Content
Innocence
Rising
Simplicity
Childlike
Tranquility
Serene
Rivers of Light
Ascending
Paul Avgerinos is a Multi-Grammy® winning artist, composer, producer and engineer. He's a
classically trained multi-instrumentalist and singer with 31 critically acclaimed new age albums
that get over 3 million streams per month. Paul is also very active composing & licensing music
for film and TV with over 9,000 tracks in his catalog.
A Graduate of the Peabody Conservatory of Johns Hopkins University, Paul lives and works in
Redding CT, where the deer pass by his studio windows and the hawks and eagles give
inspiration from above.
Avgerinos is one of the giants of Ambient music – All Music Guide
www.RoundSkyMusic.com 203-938-0069 paul@RoundSkyMusic.com
1 Joy Is 3:57 feat. Kevin Braheny Fortune on EWI
US62E2200001
2 Subtle 5:08 Piano / Guitar
US62E2200002
3 Content 6:42 feat. Kevin Braheny Fortune on Clarinet
US62E2200003
4 Innocence 4:44 feat. Kevin Braheny Fortune on EWI
US62E2200004
5 Rising 9:36 Astral floating
US62E2200005
6 Simplicity 7:11 feat. Kevin Braheny Fortune on Alto Flute
US62E2200006
7 Childlike 6:40 feat. Kevin Braheny Fortune on EWI
US62E2200007
8 Tranquility 7:41 Om chanting meditation
US62E2200008
9 Serene 7:18 feat. Kevin Braheny Fortune on Alto Clarinet
US62E2200009
10 Rivers of Light 7:05 Nature relaxation, river & birds
US62E2200010
11 Ascending 9:35 feat. Kevin Braheny Fortune on EWI
US62E2200011
76 Minutes
Paul Avgerinos:
Synthesizers, piano, guitars, vocals, sound design
Produced by Paul Avgerinos at Studio Unicorn, Redding, CT
www.StudioUnicorn.net * www.RoundSkyMusic.com
paul@RoundSkyMusic.com
Singles:
March 25 – Content
Every one wants to be happy, but it's not a feeling that comes just by hard work.
When we focus on being peaceful and content, we create the fertile soil in which
joy can take root and blossom. It is counter-intuitive: as we relax deeply into
acceptance and equanimity, joy arises naturally and effortlessly in our life
experience.
April 22 -Subtle
The signs of true joy are often subtle and overlooked in our hectic lives. When we
slow down and breathe more deeply, the delicate seeds of joy can take root and
grow in our consciousness. Make a firm decision to slow down and watch
attentively for the subtle flowers of joy as they start to emerge.
May 20 – Joy Is
Like the sun, air and water that give life to all of nature and us, Joy simply IS. The
sun, air and water ask nothing of us, but give existence to all the various forms of
life on earth. We simply need to be open and receptive, focused on positive
energies and thoughts. Then joy will flow through us all, and dwell within our
hearts and minds.
June 17 Album release – Innocence is focus track
To be truly happy and joyful, we need to become childlike again, full of innocent
spontaneity. Our 'grown-up' ways of thinking and acting are actually blocking the
very quality we all crave the most: pure Joy. Yes, we must still work and fulfill our
responsibilities, but we can do this all in a state of humility and innocence. Then,
in the midst of adult tensions and stress, we can simply smile, dwelling safely in
our pure innocence.
www.RoundSkyMusic.com paul@RoundSkyMusic.com
---
Benno Veugen JOY, New Age, New Age Music, Paul Avgerinos, Peaceful Radio, Peaceful Radio Internet Station