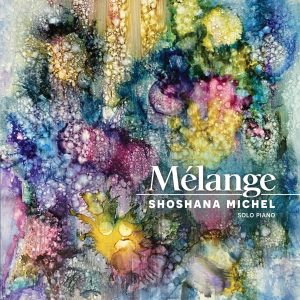 'Mélange' new album by Shoshana Michel in Peaceful Radio Show 1525
19 January 2023 Artists
---
Scroll down and click on photo for Michel's website.
The music from Mélange was born out of
contemplation and inspiration. Some of the
compositions from this album reflect the different
emotions, thoughts and feelings that Shoshana
had experienced during very challenging and
confusing times, while others were inspired by
music and those that composed it; mainly the
minimalistic pianists that had been motivating
and inspiring her the last several years. Mélange is
distinctive in that it was recorded on a felted
upright piano, giving the pieces a soft and intimate
sound and are mostly more minimalistic in nature
which differs from her previously released albums.
TRACK LISTING
1. Floating [2:56] 2. A Song for Clara [2:50] 3. Looking for Light in the Darkness [2:33] 4. Valse Musette [3:27] 5. As Twilight Falls [4:09] 6. Cinema [4:00] 7. Blue Ballerina [2:36] 8. Awaiting the Calmness [4:04] 9. A Love Story [6:01] Total Time: 32:40
CREDITS
All pieces composed and performed by Shoshana Michel
Produced by Shoshana Michel
Recorded on a Yamaha B1 upright piano
Engineered by Ben Talmi at Greylock Studios, Brooklyn, NY
Mastered by Markus Nordlund, Dromedar Studio
Cover painting, Mystical Interludes, by Danielle Sarah Storch
Graphic art and design by Matt Strieby
---
Benno Veugen Mélange, Peaceful Radio, Peaceful Radio Show, Shoshana Michel