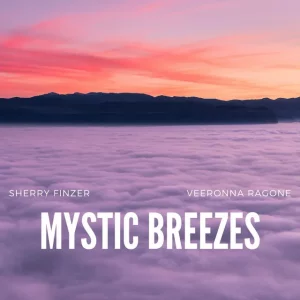 'Mystic Breezes' new album by Sherry Finzer & VeeRonna Ragone in Peaceful Radio Show 1501
3 August 2022 Artists
---
CLICK ON PHOTO'S FOR WEBSITE'S
New Age flutist Sherry Finzer and Latin-inspired
harpist VeeRonna Ragone come together again to
explore creating music for relaxation and healing.
Formerly known as Dulce VAS, the duo spent many
years performing throughout AZ and beyond with
their band, entertaining at festivals and private
events with their upbeat and energetic music. Now
they turn the tables and have recorded music to help
people to take a moment to pause, breathe and relax
with their new album Mystic Breezes.
TRACK LISTING
01. Stepping Stones (06:09)
02. Manifesting Dreams (08:10)
03. Mystic Breezes (8:43)
04. The Dawn of Tomorrow (8:30)
05. Distant Yearning (7:22)
06. Following the Path (5:25)
Total run time: 45 minutes
CREDITS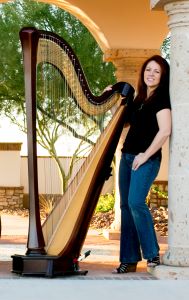 Composed and recorded by Sherry Finzer – flute(s),
VeeRonna Ragone – harp
Recording Engineer/Creative: John Herrera at
Clamsville Studios, Chandler, AZ
Post-Production: Cass Anawaty – Sonoran Mastering,
Scottsdale, AZ
AVAILABLE NOW
Amazon Music, Bandcamp, iTunes,
all majorstreaming platforms
Sherry Finzer believes that music can heal. Her musical journey has taken her from classical to jazz, pop, world, and
flamenco, to today, where she feels her music does the best work by helping to calm, soothe and bring people to a state
where they can begin to create self-healing through her meditative music. Fueled by stories shared by listeners and
fans of how her music helps them deal with stress, depression, and physical ailments such as tinnitus, stroke, and
cancer, she records, performs, composes, and runs Heart Dance Records – a label consisting of artists with a focus on
creating music to be used to help mentally and physically heal. Sherry specializes in the low flutes – alto, bass, and
contrabass, as well as Native flutes. Sherry's music can be heard on SXM Spa Channel (68), Pandora, Spotify, Music
Choice Soundscapes, Galaxie Spa Channel, Calm Radio, River of Calm, Journeyscapes, international radio
programming, multiple airlines, and overhead music channels. She was one of the first musicians asked to live stream
on the Insight Timer app and performs weekly on this platform. She has recorded over 27 New Age & Contemporary
Instrumental CDs and has released many singles.
VeeRonna Ragone has had the privilege of sitting under many celebrated musicians, starting with her father who was
an excellent Boogie Woogie and jazz pianist. It was the joy of watching her father play that inspired her to pursue the
harp in an uncommon manner. While passionate about playing pop and jazz forms of music with the harp, VeeRonna's
parents knew she would first benefit from a classical music education. This brought her under the tutelage of harp
educator, Karen Miller. Private instruction continued through college and beyond with nationally acclaimed harpist
and legendary harp master, the late Suzanne Balderston. Harp and music performance would become a way of life at
the Music Academy of the West and later at the University of Nevada, Reno. VeeRonna excelled in the Classical music
setting, playing professionally for the Phoenix and Mesa Symphonies and the Phoenix Bach Choir. For nearly 30 years
as a freelance soloist, VeeRonna has entertained on stage in settings such as Caesar's Palace and with professional
entertainment troupes such as the Bolshoi Ballet. She has performed for several professional theatre productions
including The Sound of Music, Once Upon A Mattress, and A Child's Christmas in Wales. VeeRonna has also served as
a TV guest by premiering her new "Southwestern" sound on "Your Life A to Z," an Arizona morning show. In addition,
she has played at the 2008 "Superbowl NFL Experience" and the "Sonoma Jazz Festival." She was also a featured
performer for Desert Botanical Gardens' Noche de las Luminarias. With a solid classical music foundation in place,
VeeRonna felt it was time to branch out into the area of music virtually untapped by the harp. Driven to take her harp
to new and unprecedented levels, VeeRonna continued to seek out teachers that could offer her more than a
traditional musical education, so she sought out various Grammy and Grammy-nominated artists for insight and
instruction. She has had the honor of studying with artists such as Deborah Henson- Conant, the late Harvey Griffin,
Frank Voltz, and Park Stickney, to list a few. But that wasn't enough, VeeRonna has even gone to extent of studying
under accomplished guitarists and percussionists to see what"out of the box" music she could create. Over time, her
musical styles have become diverse and numerous. Today, it isn't uncommon to hear influences from Latin, Flamenco,
Blues, Jazz, and Pop traditions.
---
Benno Veugen Mystic Breezes, New Age, New Age Music, Peaceful Radio, Peaceful Radio Show, Sherry Finzer, VeeRonna Ragone