'Oracle Of Delphi' new album by Rusty Crutcher in Peaceful Radio Show1488
2 May 2022 Artists
---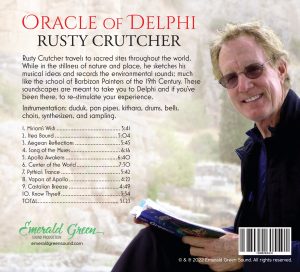 Click on photo for Rusty's website.
Rusty Crutcher travels to sacred sites throughout
the world. While in the stillness of nature and
place, he sketches his musical ideas and records the
environmental sounds, much like the Barbizon
painters of the 19th century. These soundscapes
are meant to take you to Delphi and if you've
been there, to re-stimulate your experience.
Instrumentation: duduk, pan pipes, kithara,
drums, bells, choirs, synths, and sound design.
Tracks:
1. Miriams Wish 3:41
2. Itea Bound 5:04
3. Aegean Reflections 5:45
4. Song of the Muses 6:16
5. Apollo Awakens 6:40
6. Center of the World 7:30
7. Pythia's Trance 5:42
8. Vapors of Apollo 4:22
9. Castalian Breeze 4:49
10. Know Thyself 3:34
Since 1987, Rusty Crutcher has composed, recorded, and released ten albums on his artist-owned label, Emerald Green
Sound Productions: seven releases in the "Sacred Sites Series",
three releases of sax music, and he has also scored sound tracks
all on the Emerald Green label in Santa Fe, NM.
What the critics say:
Beautiful, provocative, and soul-soothing music that speaks directly to our inner consciousness and connects
us back to our true essence. – Dyan Garris – ZMR
Historical, mythological, beautiful and haunting, I fully expect The Oracle of Delphi to be in the running for a
whole slew of awards! Don't miss it! – Kathy Parsons – MainlyPiano.com
Music such as this can ignite an inner flame that was barely flickering into an intense and consistent fire for
the curious mind. Keith "MuzikMan" Hannaleck-New Age Music Reviews
Retreats are of different kinds and musical retreat is one such. To qualify as a retreat, a composition must be
able to accomplish a deep work in the audience, relieving them from the stress of the mundane world and
transporting them to an illumined and inspired plane. In this regard, Rusty Crutcher's "Oracle of Delphi" has
every characteristic to be labeled as a SPIRITUAL RETREAT that is truly liberating and inspiring.-
Vivek Kumar – New Music Alert
---
Benno Veugen New Age, New Age Music, Oracle Of Delphi, Peaceful Radio, Peaceful Radio Show, Rusty Crutcher