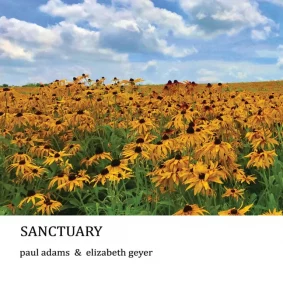 'Sanctuary' new album by Paul Adams & Elizabeth Geyer in Peaceful Radio Show 1500
26 July 2022 Artists
---
Click on photo's for websites.
Following on from their previoussuccessful collaborationsincluding
Imaginings(Winner, ZMR'sInstrumental Album of the year) and Deeper
Imaginings(nominated for both Zone and Independent Music Awards),
Paul Adams and Elizabeth Geyer now bring us Sanctuary, nine new
pieces borne out of their own – and our global collective need – to heal
and re-anchor to oursoul'strue home in uncertain times. Included is an
art insert of poetry focusing on peace,self acceptance and songs within.
Solo artists each in their own right – multi award winner Adams has 18
million Pandora streams alone and Geyer'ssinger/songwriter albums
have drawn high praise from industry heavyweightsincluding EMI/ Blue
Note's Bruce Lundvall, Jim Moginie (Midnight Oil) and Bill Champlin
(Chicago). It was one windy morning in Illinoistwo years ago which
sparked the idea for Sanctuary.
Elizabeth was meditating in a dark room to stave off a blinding migraine
while Paul practiced native American flute downstairs. Something
about the combination of the wind and the low gentle phrases Paul was
playing was curiously grounding and she began to feel better.
Wondering what was different about these soundsfrom other gentle
music they'd created and explored, it wasthe comforting reassurance of
a constant low anchor thatseemed to be holding the dreamy,soaring,
floating textures. Putsimply, music that flies without ever flying away.
Music is an incredible medium; it can excite, confront, take usto the
edge; equally other music can nurture, comfort and heal. Sanctuary is
both a powerful grounding meditation soundtrack while equally
artistically rich. Adam'ssultry electric sitar and other worldly touches
and Geyer's distinctive jazz sensibilities on piano and vocal make
Sanctuary both indulgence for the soul and a perfect healing backdrop
for these troubled times.
Track Listing
1.Sanctuary 7:00
2. A Forest's Embrace 7:50
3. Through The Tree Tops 6:50
4. An Evening's Caress 7:30
5. Nothing Is Really Lost 5:05
6. Forest Light 7:00
7. Graceful Waters 6:00
8. An Endless Summer's Evening 6:00
9. By The Water's Edge 7:30
PAUL ADAMS & ELIZABETH GEYER
www.pauladams.org
www.elizabethgeyer.com
www.facebook.com/paul.adams.754/
https://twitter.com/ppaul3
www.instagram.com/ppaul3/
From the poem DAILY ZEN:
"Each act of movement within the obligations of the
day, brings you one step closer to your nature – to the
ONE. No act, no action, is mundane. Each carriesthe
weight of a heart pumping lifeblood and fueling the
path to your beautiful empty glass."
PAUL ADAMS

With over 120 million streams on Pandora alone, multi award winning instrumentalist and singer
songwriter Paul Adams has thirteen independent album releases to date and is featured regularly on Sirius
XM, Echoes and Music Choice. Following his early studies in ethnomusicology, Paul made his career first as
a luthier, building instruments for musicians including Daryl Hall and members of Stevie Wonder's band.
Paul is also a writer, poet, and photographer and developed an interest in playing a vast array of exotic
instruments. Having also worked in mental health many years, his albums are often used in the context of
meditation, sleep, relaxation and other modalities. When asked about his diversity he likens himself to a
painter."I've always loved the different musical genres. Just as a painter doesn't want to be stuck in oils, or
acrylic, I don't want to be restricted to one theme."
P r e s s / R a d i o C o n t a c t: w w w . h i g h e r l e v e l . m e d i a | i n f o @ h i g h e r l e v e l . m e d i a
ELIZABETH GEYER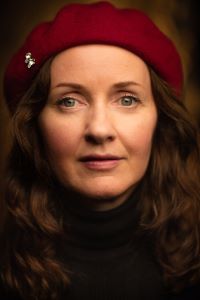 Australian singer songwriter and flugelhorn player Elizabeth Geyer's
songs have garnered praise from some of the best ears in the business
including Jim Moginie (Midnight Oil) and multiple Grammy winners
including Ricky Kej and Bill Champlin of the band Chicago. Prior to
unearthing a love of songwriting, Elizabeth worked as a freelance jazz
trumpet player in big bands and jazz festivals around Australia,
performing in Europe and the USA. Collaborating in Illinois with Paul
Adams for her fourth solo album The Bridge in 2016, they continued
with Imaginings (ZMR's Instrumental Album of the Year), Deeper
Imaginings (nominated for ZMR and Independent Music Awards) and
2022's new release Sanctuary. The late great Bruce Lundvall
(Sony/EMI) who featured Elizabeth on his Blue Note Hour on Sirius
XFM in 2013, summed it up best-"She's a force of nature.. amazing
singer songwriter, wonderful trumpet player and multi instrumentalist.
She writes songs that come directly from the heart."
---
Benno Veugen Elizabeth Geyer, New Age, New Age Music, Paul Adams, Peaceful Radio, Peaceful Radio Show, Sanctuary