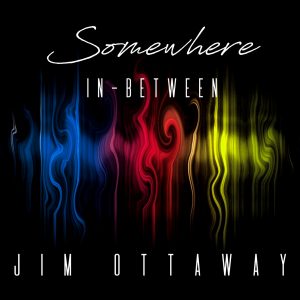 'Somewhere In-Between' new album by Jim Ottaway at Peaceful Radio Internet Station
21 June 2022 Artists
---
Australian electronic musician and composer, Jim OƩaway, has just released his new electronic album…
SOMEWHERE IN-BETWEEN.
Jim says that SOMEWHERE IN-BETWEEN follows on from some of his more recent electronic albums
including WHEN ETERNITY TOUCHES TIME and TIMELESS e-MOTION, both of which were awarded Best
Electronic Album at the Zone Music Reporter Awards in New Orleans in 2018 and 2021 respecƟvely.
Jim's new album consists of eleven tracks all focusing on that special place in-between heaven and
earth… a place of love and Ɵmelessness… a place of intrigue and uncertainty… a place of promise and
the future. As with Jim's other electronic albums he covers many sub-genres of electronic music in this
album including a touch of Berlin school, melodic electronic and ambient, and some pure EM.
Jim explains that the tracks on this album were chosen from many hours of recorded music he has in
his music vaults. Some tracks were composed and recorded as early as 2008. However, all tracks had
addiƟonal recordings added in the last six months, while this album was being produced. Recording and
producƟon were completed in April 2022. Jim composes and records all his music in his home studio
situated at the foothills of the beauƟful Springbrook Mountain on the Gold Coast, Australia.
Each of Jim's last nine albums… THRESHOLD OF THE UNIVERSE, WHEN ETERNITY TOUCHES TIME,
BEAUTIFUL DESOLATION, BEYOND THE PURPLE SUN, YESTERDAY PASSING, DEEP SPACE BLUE, TIMELESS
e-MOTION, SOUTHERN CROSS and INVISIBLE VORTEX received nominaƟons in world-wide music
awards. In July 2021, Jim was awarded Best Electronic Album for his album WHEN ETERNITY TOUCHES
TIME at the 17th Annual Zone Music Reporter (ZMR) Awards in New Orleans, USA. Jim was also awarded
two awards at the 14th Annual ZMR Awards in 2018 for his albums DEEP SPACE BLUE (Best Ambient
Album) and TIMELESS e-MOTION (Best Electronic Album). Jim has also received ZMR Album of the Year
nominaƟons for WHEN ETERNITY TOUCHES TIME and DEEP SPACE BLUE.
To find out more about Jim and his music, visit his website: www.jimoƩaway.com
SOMEWHERE IN-BETWEEN can be purchased from Amazon; CD Services (Dundee, Scotland); Red Eye
Records (Sydney, Australia); Rocking Horse Records (Brisbane, Australia); Lloyd Barde ProducƟons
(USA); and Jim's website. The album can also be downloaded from numerous sites including:
Bandcamp, iTunes and Amazon and is also available for streaming on major sites such as SpoƟfy,
iTunes, YouTube, Deezer, Pandora, Napster, Tidal and iHeart.
Jim's contact details are:
Email: jim@jimottaway.com
Web: www.jimottaway.com
Facebook (Official): www.facebook.com/JimOttawayMusic
Twitter: www.twitter.com/JimOttawayMusic
Bandcamp: https://jimottaway.bandcamp.com/
Jim Ottaway is an international award-winning Australian composer and musician recording original electronic
instrumental music covering many genres including electronic, ambient, new age and space music.
Jim's major musical influences include Tangerine Dream, Edgar Froese, Vangelis, Pink Floyd, Enigma,
Johannes Schmoelling, Tony O'Connor, Christopher Franke, Lisa Gerrard and Gary Wright. The inspiration
behind Jim's music is his love of nature and his spiritual connection to the beautiful environment of the Gold
Coast hinterland.
Since 2004 Jim has released over 30 independent albums in his homeland, Australia… commencing with his
first release FIRST LIGHT, a light relaxing ambient album and culminating in his new high-powered electronic
release SOMEWHERE IN-BETWEEN, officially released in June 2022.
During the years 2016 to 2022 ten of Jim's albums charted around the world… INVISIBLE VORTEX (peaked
at #1 on the One World Music (UK) Top 100 Chart for 2 months in 2016), SOUTHERN CROSS, LIQUID
MOON, TIMELESS e-MOTION; DEEP SPACE BLUE, YESTERDAY PASSING, BEYOND THE PURPLE SUN,
BEAUTIFUL DESOLATION, WHEN ETERNITY TOUCHES TIME and THRESHOLD OF THE UNIVERSE.
DEEP SPACE BLUE, BEYOND THE PURPLE SUN, WHEN ETERNITY TOUCHES TIME and THRESHOLD OF
THE UNIVERSE all reached the Top 10, on the prestigious USA-based Zone Music Reporter Top 100 chart.
Jim has received three awards from the Zone Music Reporter Awards held in New Orleans, USA each year.
In July 2021 Jim was awarded… Best Electronic Album for WHEN ETERNITY TOUCHES TIME and in May
2018 Jim received two awards…Best Electronic Album for TIMELESS e-MOTION and Best Ambient Album for
DEEP SPACE BLUE.
Jim was awarded a Silver Medal at the 2016 and 2017 Global Music Awards for his albums SOUTHERN
CROSS and DEEP SPACE BLUE (respectively).
Another five of Jim's albums have received international music awards nominations including INVISIBLE
VORTEX, YESTERDAY PASSING, BEYOND THE PURPLE SUN, BEAUTIFUL DESOLATION and
THRESHOLD OF THE UNIVERSE.
Since 2010 twenty-six of Jim's tracks have been chosen as finalist in various Australian music/songwriting
awards including the Australian Songwriting Awards. Jim was also nominated for two Queensland Music
Awards in 2010 and 2011(respectively).
Jim's music is available for download from iTunes, Bandcamp and Amazon. Jim's music is also available for
streaming from major streaming sites including YouTube, iHeart Radio, Spotify, iTunes, Pandora, Tidal,
Napster and Deezer. Jim's albums can also be purchased directly from his website… www.jimottaway.com
---
Benno Veugen Jim Ottaway, Peaceful Radio, Peaceful Radio Internet Station, Somewhere In-Between