'Unraveling' new album by Pam Asberry in Peaceful Radio Show 1489
10 May 2022 Artists
---
This album is Pam's musical expression of her personal experience navigating through the coronavirus crisis. 
Described as "one of the most promising solo piano artists in New Age music today" (B.T. Fasmer, New Age Music Reviews), Pam Asberry is an award-winning solo pianist and composer who combines contemporary, new age, and classical sounds to create music that is alternately melodic and graceful, dramatic and powerful, peaceful and hypnotic. 
Classically trained from the age of seven, she completed a master's degree in piano performance and piano pedagogy and maintains a private teaching studio near Atlanta, Georgia. She has played concerts across the United States and abroad and her passion is sharing her music and the stories behind them with listeners around the world. 
Click on photo for Pam's Bandcamp page.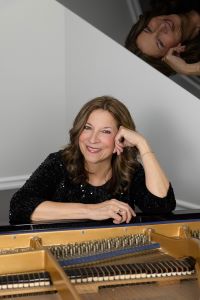 Track Listing
01 Storm Clouds Gather (3:23) 
02 Unraveling (3:49) 
03 Bluebird (3:08) 
04 Tattered Lace (2:51) 
05 Dark Places (3:47) 
06 Goodbye Again (2:50) 
07 Labyrinth (2:43) 
08 Saudade (2:35) 
09 Polaris (2:50) 
10 This Time with You (3:14) 
11 Metamorphosis (3:42) 
TOTAL RUNNING TIME: 35 minutes
All music composed and performed by Pam Asberry (BMI). 
Mastered and engineered by Joe Bongiorno (www.pianohaven.com). 
Cover design and art direction by Matt Strieby of Newleaf Design (www.newleafdesign.com). 
Portrait photography by Patty Wells (www.patriciawellsphotography.com). 
Unraveling will be available on all streaming platforms, including iTunes, and Amazon.
---
Benno Veugen New Age, New Age Music, Pam Asberry, Peaceful Radio, Peaceful Radio Show, Unraveling