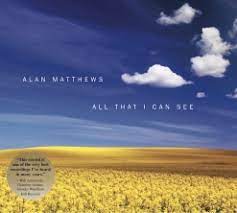 'All That I Can See' new album by Alan Matthews in Peaceful Radio Show 1495
21 June 2022 Artists
---
Click on photo for Alan's Bandcamp page.
Working once again with Grammy-winner Will Ackerman and
esteemed mixing and mastering engineer Tom Eaton, Alan
Matthews' new album, All That I Can See, features the relative
newcomer going it alone. The eleven tracks of solo piano once
again feature expressive melodies, carefully nuanced
performances, and expert musicianship. By making the decision
to record a solo piano album, Matthews' mastery of the
instrument is on full display throughout. The overall mood on
All That I Can See is one of quiet, gentle introspection,
sometimes laced with extremely subtle melancholy, as well as
trace elements of soft (not smooth) jazz. Just three albums into
his career and it appears that Alan Matthews is well on his way
to becoming one of the more acclaimed pianists in contemporary
music.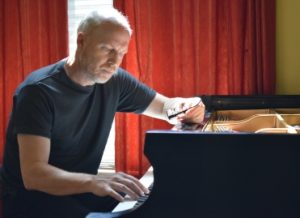 Tracks
All That I Can See 3:42
Andalusia 3:31
Endless Beginnings 6:15
Falling Colors 3:27
Embracing Gray 4:57
The Mistastin Seven 4:31
On A Whim 2:49
Seeing You Again 2:42
A Quiet Walk 3:36
Finding The Feeling 3:49
Ode To Why 4:32
All That I Can See is available, either as CD, and/or download
or streaming, depending on the outlet:
Amazon, iTiunes, Spotify, Bandcamp, and YouTube Music
Composed and performed by
Alan Matthews. Album
produced by Will Ackerman
and Tom Eaton. Engineered
and Mastered by Tom Eaton.
Album recorded at
Imaginary Roads Studios,
Windham County, Vermont
I can't imagine a better album to lose yourself in than All That I Can
See. Peaceful, warm, and gently uplifting, it works its magic with full
focus, as well as an enhancement to other quiet activities. Beautifully
expressive!
Kathy Parsons/MainlyPiano.com
Alan Matthew's All That I Can See
features my favorite kind of solo
piano music, i.e. expressive but not
overly so, evocative without
resorting to melodrama, sincere but
not cloying, and the perfect tempo
which is a hybrid of softly melodic
with a semi-sparse quasiminimalism. Perfect for afternoon
daydreaming or drives through the
country.
Bill Binkelman/Wind and Wire
---
Benno Veugen Alan Matthews, All That I Can See, New Age, New Age Music, Peaceful Radio, Peaceful Radio Show