'Home Songs' new album by Genevieve Walker in Peaceful Radio Show 1501
5 August 2022 Artists
---
Click on photo for Genevieve's website.
A message from Genevieve…
Home Songs, my second solo album, has grown out of the soil of
motherhood and the ground of family life. Several of the melodies
first came to me aslullabiesthat I would hum to my babies.
Others were composed with an instrument in one hand and a
toddler on my knee. My babies have grown into little people and
the melodies have become the songs of this album. Songs are akin
to children, they begin with an inkling, a whisper and build and
grow beyond the imagination! Chris Gartner, the producer of this
album, wasinstrumental in growing these songs.
My first album wasinfluenced by my years of touring the world as
a violinist. It was a worldly album, looking to home from
elsewhere.
Home Songsis a shift in my orientation, drawing upon the sounds
and melodies of everyday life to express a collective ode to the
loss and joy found in the responsibilities of family life.
In my ongoing exploration of home I have come to appreciate that
the HOME I long for most isthe love in my own heart. When I am
cut off from that love, I am not at home. My hope isthat the music
of this album will in some way bring you home.
TRACK LISTING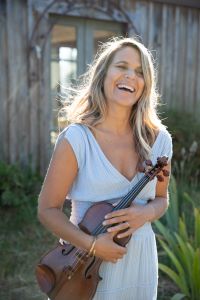 1. Constellations (05:51)
2. Saints (05:08)
3. Mothers (05:22)
4. Fathers (04:19)
5. Sons (05:16)
6. Beloveds (04:01)
7. Moons (03:12)
8. Shadows (05:23)
CREDITS
Genevieve Walker: violin, viola, piano, vocals
Chris Gartner: bass, whistling, arranging,
beats & ambientsoundscapes
Rafe Pearlman: vocals
Noah Hoffeld: cello
Chris Seligman: french horn
Steve Gorn: bansuri flute
Nina Rao: kartals
produced by Chris Gartner at Redwood Sound
mastered by Taras Petryk at Serpentone
album design by Yesim Tosuner
photos by Perry Julien and Laura Kudritzki
AVAILABLE ON:
Amazon Music, iTunes, and all majorstreaming platforms
Violinist and composer Genevieve Walker, perhaps best known for her longstanding role as an accompanist
for Grammy-nominated artist, Krishna Das and Juno nominated band, Stars, has crafted a remarkable
follow-up to her debut album, "Walking Home," an ethereal and heartfelt collection of original music
entitled, "Home Songs."
An amalgamation of indelible and lyrical melodic figures, sound fragments, and inspired musicianship, "Home
Songs" evokes a poetically crafted refuge, a warm and lush space to open up and dream in.
Impeccably produced by bassist Chris Garter, "Home Songs" features stellar performances all around.
Genevieve, who plays violin, viola, piano, and also appears as a vocalist on the album, is joined by Rafe
Pearlman on vocals, Noah Hoffeld on cello, Chris Seligman on French horn, Steve Gorn on Bansuri flute, Nina
Rao on kartals, and the aforementioned Chris Garter on bass.
In Genevieve's words, "It is a celebration of the numinous in the ordinary"
http://www.genevievewalkermusic.com/home-songs
---
Benno Veugen Genevieve Walker, Home Songs, New Age, New Age Music, Peaceful Radio, Peaceful Radio Show