'Out Of The Desert' new album by Tasha Smith-Godinez in Peaceful Radio Show 1495
22 June 2022 Artists
---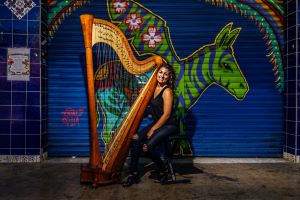 "…an engaging variety of new music carefully crafted and brilliantly performed"  Sequenza 21
"…eclectic performances keep the audiences returning for more!" The Jazz Lounge, San Diego
When a master musician steps forth to stretch their classically trained wings to explore new genres and original expressions, the results can be a journey of discovery and magic. Enter San Diego harpist, Tasha Smith Godinez, Director of the San Diego Harp Academy who is proudly releasing her first collection of original compositions, OUT OF THE DESERT.  Creative and exploratory music that links world, jazz, classical with a touch of avant-garde inspired by the Sea of Cortez, Baja California and all things San Diego.
Situated on the Pacific Ocean, San Diego with its near perfect climate and seventy miles of beaches, has become a haven for musicians. Home city for many pop, rock and jazz stars such as Tom Waits, Eddie Vedder, Blink-182 and saxophonist Charles McPherson, it is also the cradle for some renowned classical musicians and is a nest for some of America's finest harpists, including contemporary harpist, Tasha Smith Godinez. Professor of Harp at the University of San Diego and Director of the San Diego Harp Academy, Tasha is proficient in performing both the electro-acoustic pedal harp and lever or Celtic harp as well as multiple genres.
Tasha Smith Godinez first fell in love with the harp aged 8 and spent years crafting her skills within  classical traditions. On her journey to becoming a master harpist, Tasha was taught by some of the world's leading harpists including the internationally acclaimed French harpist, Isabelle Perrin and the late, great American harpist, music educator and Associate Dean of the Herb Alpert School of Music at California Institute of the Arts, Susan Allen.
While Tasha's musical background is firmly rooted in the classical music tradition, OUT OF THE DESERT echoes jazz, classical, world and avant-garde music. Tasha's deep understanding and sound possibilities of the harp is given full flight on OUT OF THE DESERT, accompanied by viola player, Domenico Hueso and jazz percussionist Christopher Garcia.
Inspired by her own poetry and people in her life, Tasha reflects on this new collection of classical-jazz compositions on OUT OF THE DESERT,
"Out of the Desert is an incredibly personal recording. It is a reflection both of my life during the pandemic (composed during 2020-2021) as well as how my faith and the people and places most sacred to me, have shaped my life and creativity. Music brings beauty to the world and connects people on a level that nothing else can.  We don't have to speak the same language to understand each other through music."
'Mulatta' was the spark that started Tasha's journey on OUT OF THE DESERT. Born to an African American father and Caucasian American mother, 'Mulatta' ('Bi-racial Woman) celebrates the marriage of Tasha's bi-racial parents. 'Mulatta' is Tasha's first ever original composition which she refers to as "the musical version" of herself as it speaks so clearly of who she is both racially and culturally. While bowing the harp at the start of the track, Tasha inventively used magnetic tape to activate the lowest strings to create a beautiful ambient beginning.
Deserts are arid and vast landscapes shaped by sand and rocks. OUT OF THE DESERT is both a figurative title after the pandemic years 2020-21 and also references real Mexican deserts. 'El Amanecer' (Dawn) takes the listener to dawn as the rising sun hits the desert of Baja California where its massive, jagged rock formations lead down into the contrasting blue waters of the Sea of Cortez. 'El Amanecer' was inspired by dawn in the desert of Baja California Sur as the rising sun hits the jagged rocks above the Sea of Cortez, as Tasha explains,
"Watching the sunrise above the quiet desert and still waters beyond was beautiful and inspiring, I aimed to make El Amanecer' an aural representation of this scene."
Tasha Smith Godinez is a gifted harpist but also motherhood has afforded her great strength and patience. Tasha celebrates motherhood on 'Infancia and The Path'. The voices heard in The Path are of her then three-year-old son, Giovanni on the beach in San Diego, California. 'My Soul Floats on the Sea' is a quintet of themed compositions that close the album.
The three musicians on OUT OF THE DESERT are all masters of their instruments as well as good friends working as Music Beyond Borders. Tasha herself has performed with Placido Domingo and as part of Johnny Mathis' orchestra as well as internationally acclaimed percussionist, Steven Schick both in his ensemble Red Fish, Blue Fish and as a chamber musician.  Tasha Smith Godinez is joined by former percussionist for Frank Zappa, jazz drummer, master of North Indian tabla and Mexican percussion, Christopher Garcia. Domenico Hueso is a virtuoso violist, an international touring musician whose performances include Placido Domingo, Yo-Yo Ma, AeroSmith, Johnny Mathis and KANSAS.
OUT OF THE DESERT is a musical gem that explores new territory for the harp full of emotion creativity and soul. Tasha Smith Godinez manages her own record label, Ennanga Records which will release OUT OF THE DESERT on June 10, 2022.
Track Information:
OUT OF THE DESERT/Tasha Smith-Godinez
Mulatta (7:09) Bi-racial woman
The First Garden (4:03)
Wind – Where are you now? (4:02)
Infancia (4:39)
Quiet Memories (3:40)
The Path (4:21)
Come back to me… (7:43)
El Amanecer (8:12)
My Soul floats on the Sea
I: Floating on the Sea (2:24)
II: In the Depths (3:19)
III: Drifting (2:14)
IV: Landlocked (3:13)
V: Return and Assent (1:20)
Tasha Smith-Godinez Online
Website: https://tashasmithgodinez.com
Bio: https://tashasmithgodinez.com/bio
Album Information:
Album: OUT OF THE DESERT
Artist: Tasha Smith Godinez
Label: Ennanga Records
Release Date: 10 June, 2022
Genre: World-jazz
Musicians: OUT OF THE DESERT
Tasha Smith Godinez – Harp
Domenico Hueso – Viola
Christopher Garcia ­– Percussion
---