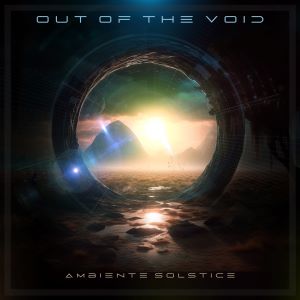 'Out of the Void' new album by Ambiente Solstice (JJ Rey) in Peaceful Radio Show 1562
12 October 2023 Uncategorized
---
Scroll down and click on photo for website.
Out of The Void is a stunning new album, a cosmic journey unlike any other. Out of The Void is a
metaphor for emerging from a void, a vacuum, the quality, or situation of lacking something,
absence, a sense of yearning, or a hollowness. This new studio album is inspired by a personal
journey coming out of spiritual emptiness and into a place of faith, hope, and joyful love.
Track Listing:

1. Universe Expanding 06:31
2. Chaotic Peaceful Shift 05:32
3. Eta Carinae Nebula 07:25
4. Space, Time, and Thought 05:04
5. 4D Spacetime 05:34
6. Out of the Void 05:19
7. Heaven's Chord (feat. Sean O'Bryan Smith and Dave
Luxton) 05:35
8. Starburst Arcs of Light 06:02
9. In The Heavenlies 06:59
Out of The Void is available through
all major download and streaming services.
JJ Rey is primarily known for his work in the Ambient
music genre. His compositions are introspective
lullabies and ethereal meditations of shifting harmonies
that create colorful tapestries of mood. His four
previous albums, Abandoned Peace, Living Water, and
Cloud Watch with Me, in 2021, Falling into Sleep, and
Comets Dust in 2022, have been widely successful. He
returns now with Out of The Void which is his second
album on Wayfarer Records. JJ Rey is joined by Sean
O'Bryan Smith and Dave Luxton on "Heaven's Chord".
---
Benno Veugen Ambiente Solstice, Out of the Void, Peaceful Radio, Peaceful Radio Show