'Reflections Spaces Vol. 2' new album by Brian Fechino in Peaceful Radio Show 1559
21 September 2023 Uncategorized
---
Scroll down and click on photo for Brian's Bandcamp page.
Reflections Space Vol 1 & 2 is a stunning collection of
recordingsfrom ambient and rock guitarist Brian Fechino. As a
multi-instrumentalist, Brian uses bass, keys, and intertwining
ambient guitar lines and space to create an evolving
soundscape, taking the listener on a nostalgic inner journey
into their own sense ofspace, thought, and reflection.
Brian hasteamed up with some of hisfavorite musicians on
both volumes and intendsthe music to be suitable for anyone
who is on an inward journey, or justsipping tea and taking a
moment for themselvesto reflect.
Track Listing
Vol 1.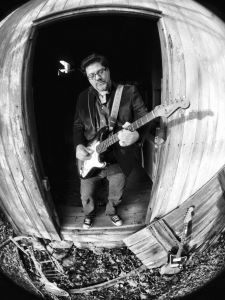 01 Candy Drops (4:05)
02 Looking Up (4:30)
03 Gobi Moon (5:04)
04 Two Trees (5:00)
05 Sidra (5:29)
06 Space to Breathe (5:18)
07 Inside Time (5:04)
Total run time: 35 minutes
Vol. 2
01 A Place Unknown (4:58)
02 Road to Hapi (5:36)
03 Flying Low (4:12)
04 Guided Paths (7:36)
05 From Above (4:35)
06 Quiet Steps (4:35)
Total run time: 32 minutes
Credits
Brian Fechino: Guitar, Bass, Keyboards, Drum programing
Chardy McEwan: Percussion on Road To Hapi
Dean Anschutz: Drums on Guided Paths
Ryan Newell: Guitar on Guided Paths
Eric Donnelly: Guitar on Guided Paths
Eric Reed Hall Jr.: Guitar on Guided Paths
Karasvana: Vocals on Sidra
Kyra Cannon: Vocals on From Above
Sherry Finzer: Flute on A Place Unknown
Brian Fechino: Produced and Mixed
Cass Anawaty: Mastering – Sonoran Mastering
Brian Fechino is a guitarist, producer, and mixer. As a producer, he works with both solo artists
building complete tracks, as well as full bands to shape, direct and capture their sound often lending
guitar, bass and keys. Brian is the studio manager at The Holler in Nashville owned by Chuck
Cannon. He has had many songs he has produced on tv including recent shows like CBS's All Rise
and ABC's Stumptown. Brian is the producer of the annual "The Sixthman Sessions " Album as well
as "The Write by the Sea" album and works closely with The Rock Boat Music Cruise and Rock by
the Sea Charity Festival.
As a guitarist (former lead guitarist with The Pat McGee Band) he puts a higher priority on taste and
tone rather than technical gymnastics. His strength lies in his understanding of guitar history,
technique, and equipment as well as his many years of stage and studio experience. From moment to
moment, in his playing, he is able to draw from this knowledge enabling him to produce every
imaginable (and many previously unimaginable) sound from his guitar. His style can adapt to many
different genres while still retaining his sense of taste and commitment to getting the right sound
and playing the right part.
---
Benno Veugen Brian Fechino, Peaceful Radio, Peaceful Radio Show, Reflections Spaces Vol. 2