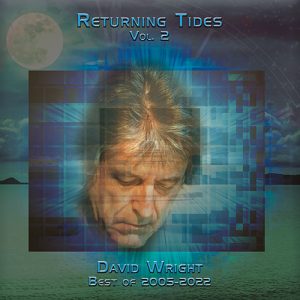 'Returning Tides Vol. 2 Best of 2005-2022' new album by David Wright, label AD Music, in Peaceful Radio Show 1510
4 October 2022 Artists
---
Click on photo for AD Music Shop.
'Returning Tides Vol 2′ charts the solo electronic music of David Wright from 2005 to 2022. The compilation highlights the composer's creative diversity and the evolution of his sound and style across his large body of work. Volume 1, released in 2005, charts the composer's music from 1989-2005.
David's music is emotive, melodic and thematic and often described as being "full of rhythmic motion". It has the ability not just to make one think, but to make one "feel".
The standard CD release contains 18 tracks, while the deluxe download version contains 34 tracks, which include unreleased, rarities and collaborations with a variety of musicians including Ian Boddy and Klaus 'Cosmic' Hoffmann-Hoock. All the music has been edited and remastered for this release and in many instances the tracks are shorter and more 'radio friendly'.
David Wright has championed lesser known artists for decades through AD Music, one of the most successful and enduring electronic music labels of the past 35 years. He has enjoyed critical and commercial success through his solo work, as well as co-founding the acclaimed avant-garde band 'Code Indigo' and the Tangerine Dream influenced Callisto. He has also been actively involved as a promotor of electronic music events in the UK.
David Wright is now considered a veteran of the electronic music scene. His large catalogue of work is varied, embracing Electronic Music, New Age, Ambient and Space Music.
During a musical journey that began in the late 1980's, David's unique, emotive and multi-layered sound and style has been compared to Tangerine Dream, Kitaro, Klaus Schulze, Mike Oldfield and Vangelis. He has established himself as a respected musician, producer and promotor of electronic music events.
David Wright is co-founder of the Tangerine Dream influenced 'Callisto' and the avant-garde electronic rock band 'Code Indigo'. He has recorded music as the new age project 'Trinity' as well as with Ian Boddy, Klaus Hoffmann-Hoock and Robert Fox. He also founded the AD Music label in 1989 and his music has been used for film and TV alongside involvement in the production of numerous other albums in many different genres, including folk, opera, rap and rock.
Please visit www.davidwrightmusic.com
---
Benno Veugen AD Music, David Wright, Peaceful Radio, Peaceful Radio Show, Returning Tides Vol. 2 Best of 2005-2022